A 54-year-old Whitechapel man who will be unable to attend a football match this evening due to quarantine restrictions has told The Whelk that he intends to replicate the experience of watching the game, using his own home as the venue, while his back garden will be utilised to recreate travelling to the event.
Toby Dell, a diesel-fitter from Leman Street, told us: "I was gutted when I tested positive for covid on Sunday because I knew I'd be in breach of the quarantine rules if I went to the West Ham v Norwich match tonight.
'However, I've decided to do the next-best thing by creating the whole experience at home.
'At around 5.00 pm, I'll go out to the shed to replicate going to the pub for a pre-match booze-up by drinking cans of lager until I can barely stand.
'I shall then recreate the walk to the ground by doing circuits of the back garden for about half an hour.
'I'll get the missus to bring me out a takeaway kebab at some point as I always like a bit of scoff on the way to the match to soak up the ale.
'Then, after urinating up the garden fence to faithfully replicate my pre-match Jimmy Riddle in public, I'll show my ticket to the missus at the back door before going in to watch the game on the telly.
'At half-time, I'll steam into a few more cans of lager that I've smuggled in past the kids, who will be dressed in hi-viz jackets and acting as stewards.
'After the match, I'll go back into the garden for the dummy walk home, and if The Hammers have lost, I'll jump the fence into next-door's garden and beat seven shades of shit out of the bloke who lives there to recreate a spot of post-match soccer hooliganism.
'Finally, it'll be back indoors for a few cold sharpeners from the fridge before settling down to watch the highlights on Match Of The Day.
'Unless, of course, we've lost, in which case I'll go straight to bed without a word of greeting to the family with a face like a smacked arse.'
Mr Dell's replication of a sporting event comes just two weeks after a man from neighbouring Shoreditch pretended to be present at The Masters Snooker Championship by putting the event on TV and then falling asleep for six hours.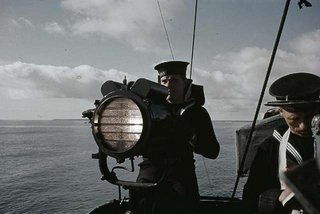 A 32-year-old Whitechapel woman revealed last night that she caught her husband having a saucy exchange with a woman living across the road using coded messages on an Aldis Lamp, a signalling device used by ships to transmit messages to one another while at sea.
Tracy Dell, from Berner Street, told BBC London News: "I first suspected he was up to something when he came home with an Aldis Lamp and told me that he was going to use it if we were flooded out and needed to signal to a life raft while we were on the roof.
'Initially, I believed him but then he began sneaking up into the loft late at night and I could hear him operating the shutter.
'I went into the street and could see that he was exchanging signals with the house opposite.
'I spent the next weeks learning naval signalling codes and then concealed myself in the hedge outside our house and waited.
'At around midnight, they were at it, and, due to my newly-acquired skills, I was able to decipher every dot and dash.
'He was describing what he wanted to do to her and she was responding in kind.
'I eventually ran indoors and broke down when she started signalling that she wanted to nosh him off in our bedroom while I slept'.
'I confronted him and he eventually came clean, telling me that he was sorry and that it would never happen again.
'I decided to give him another chance but then filed for divorce when, just a week later, I found semaphore flags hidden at the back of the wardrobe'
Mrs Dell's revelations come just two weeks after a 40-year-old man left his wife of twenty years after finding her sending lewd messages to one of the builders working on their extension using morse code.
A 54-year-old Whitechapel man has told The Whelk that a recent search on a genealogy site has revealed that his late father was a brutal torturer in the feared Nazi secret police, the Gestapo.
Speaking from his home in Brushfield Street yesterday, Toby Dell, a forklift truck driver, said: "I recently subscribed to a website that promises to discover your ancestors going right back to the Middle Ages.
"As you can imagine, I was pretty disappointed to find out that my dad was a massive Nazi who tortured people in a dungeon underneath a castle in Bavaria.
"Apparently, he used to administer electric shocks to people's private parts and wasn't averse to using mediaeval instruments of torture, including the Iron Maiden and The Rack to make people confess to being spies or Jewish.
"It's a real sickener for me as mum always told me he was in The Home Guard during the war"
Dell's revelations come just two weeks after another family tree-researcher, a 35-year-old woman from Shoreditch, discovered that her grandmother was The Beast Of Belsen.
A 54-year-old Black Friday bargain hunter was killed by a fellow shopper in Curry's electrical goods store in Oxford Street, central London yesterday after a confrontation over a 43-inch flat-screen TV set.
Vic Digence, from Mare Street in Hackney, was killed by a single sword thrust to the chest from a man who, according to witnesses, became incensed when he saw the victim making off with the heavily discounted item and heading to the checkout.
One female bystander, Tracy Carter, 32, from Stratford, East London, told us: "I heard voices being raised and turned to see this bloke stabbing another man with a sword.
'He was well furious and was calling this poor bloke all the names under the sun.
'I can only assume he had his eye on that telly and lost the plot when he saw this other bloke walking off with it.
'He then pulled his sword out of the fella's chest, picked up the telly and walked over to the checkout to pay.
'I said to my friend that it was a bit over the top. I mean, we all like a bargain and I've had the odd up-and-a-downer myself over a cheap item but surely a punch in the face would have been more than enough'
The police have named the assailant as Toby Dell, 42, from Brushfield Street, Whitechapel, who was recently released from a secure unit where he had served 25-years for nailing a woman to a display unit following a dispute over some cut-price pillowcases at a Selfridges January sale in 1996.
Britain's most prominent conspiracy theorist, David Icke, has told his followers that Prince Harry and his wife, Meghan Markle, have been transformed into Sumatran Howler Monkeys after watching a box set of the popular legal drama, Rumpole of The Bailey.
In a recent video clip on the Telegram social media platform, Icke states: "There can be no doubt whatsoever that Harry and Meghan now have the ability to shift shape at will and have become howler monkeys, and it's all down to binge-watching, legal drama, Rumpole Of The Bailey
'If you send me some money via my website I will give you the irrefutable proof, along with a first-hand account of how my son walked past their garden a few weeks ago and spotted them both sitting in the branches of a tree, eating bananas, picking fleas out of each other's back hair and emitting occasional ear-splitting howls.
'You have to send at least twenty quid though, otherwise, you'll never get wise to their little game'
Icke's shock claims come hot on the heels of a recent assertion by Britain's Got Talent judge and self-proclaimed free-thinker, Amanda Holden, that Prince Edward and his wife, Sophie, are actually 'Transfomer-like' beings that can turn into mobile phone masts that emit killer 5G rays at the wanton behest of madcap billionaire, Bill Gates.
Pop princess, Britney Spears, last night announced that big-faced Brit singer and TV personality, Olly Murs, is to become her new conservator following her father's recent relinquishing of the role.
Speaking to newsmen from outside her hotel in Manhatten, Spears said: "I'm delighted to tell you that Olly has agreed to become my new conservator and I look forward to having the big-faced Brit as my new mentor and guide.
"I'm particularly looking forward to going for long walks on his massive dial while he handles my financial affairs for a hefty fee.
"I've already arranged to have a party for a few hundred friends on his face and can't wait to let my hair down on his gigantic forehead while he negotiates his percentage cut from my career royalties."
Murs was unavailable for comment last night as he is currently touring a number of working men's clubs in Sheffield but the Dance With Me star's mother, Mildred, 97, told newsmen:
"Olly's always been a massive Britney fan and can't wait to make a few bob out of being her conservator while she takes it easy or parties on his massive face"
This latest announcement comes just a few days after troubled pop icon, Justin Bieber, revealed that he was going to spend six months recuperating from a series of drink and drug-fuelled benders inside pop entrepreneur Simon Cowell's enormous, high-waisted trousers.
ITV's Loose Women stalwart, Denise Welch, has issued an apology for raping a 57- year- old ex-footballer live on-air in yesterday's edition of the programme.
Welch, 85, subjected Liverpool and England legend Barnes, to a prolonged and brutal attack, during which her visibly upset co-presenters repeatedly threw buckets of water over her and made a number of failed attempts to pull her off.
In a statement to reporters from outside her home in Middlesborough, Welch said: "I should like to apologise for raping Mr Barnes live on air yesterday.
"It was a spur of the moment thing and not something I'm particularly proud of.
"I just hope my many fans will stand by me, and that I'll be allowed to get on with presenting Loose Women for at least a couple of weeks or until my case comes up in court"
This latest incident comes just a few months after her actor ex-husband, Tim Healy , 92, was charged with lewd conduct in a public place after the Auf Wiedersehen Pet star was spotted masturbating over the sweets in his local Shell garage by the girl at the cash desk.
A 54-year-old local man has told The Whelk that he picked up a severe side strain while sitting on the sofa watching an episode of the popular TV detective drama, Columbo, last Friday.
Toby Dell, a window-fixer from Vallance Road, told us: "I was sitting on the sofa, watching Columbo, when I felt this searing pain in my side.
"I cried out in anguish but my wife told me to 'put a sock in it' and just carried on watching.
"I grabbed a pillow and covered my face, in an effort to avoid causing further disruption to her viewing pleasure.
"I can only put it down to the tension I felt when Columbo was leaving the room where he'd been questioning the murderer then stopped and said: "There's just one more thing sir…"
This latest incident comes almost one year to the day when a woman from neighbouring Limehouse wrenched her left knee from its socket while removing her reading glasses to watch an episode of Murder She Wrote.